by Brenna Timm
Where can you Recycle?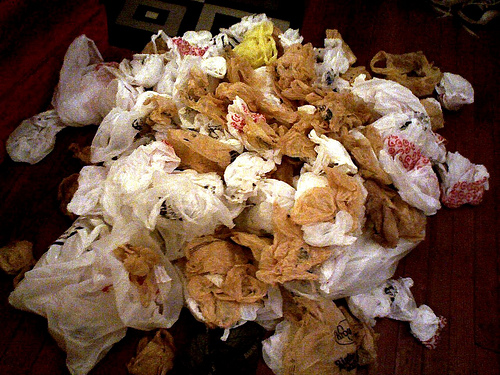 Reduce, Reuse, Recycle. This mantra is drilled into us and our children over the years as we have become more aware of our environment and turning 'trash' into 'treasure'. Whenever you begin your construction project or emptying out your house, your goal is to get rid of as much waste as you can. Dumpster Rental provides services for you to get rid of the your project's trash. However, what about recyclables? In particular, items like plastic bags, bottles, electronics, and furniture. Dumpster Rental can assist you with recycling your 
items
, but there are opportunities where you can recycle. Plastic bags like grocery bags should not be put in the dumpster along with your waste. Instead, Fort Collins and the surrounding area provides places for you to drop off plastic bags. King Soopers stores around town have bins specifically for recycling plastic bags and film, usually found in the front entrance. Below is a list of sites that accept plastic bags along with other recyclables such as aluminum cans and #1-#7 bottles and jars. For more specifics on what each recycle site does, check
here
.
City of Fort Collins: Timberline Recycling Center
1903 S. Timberline Road, Fort Collins
City of Loveland Recycling Center
400 N Wilson Ave., Loveland
Larimer County Recycling Drop-off Center
5887 S. Taft Hill Rd., Fort Collins
Lowes Home Improvement
4227 Corbett Dr., Fort Collins
WalMart Supercenter
1250 E Magnolia St., Fort Collins
Super Target
2936 Council Tree Ave., Fort Collins
Other recyclables
Other sites around town have similar bins and centers that accept different items meant for recycling, such as electronics. Electronics like TVs and phones can be accepted by Dumpster Rental due to a
Colorado Senate Bill
. Many
major businesses
such as
Best Buy
, Target, Verizon and more will accept old electronics regardless of their usability. There is another option if you have bigger items like chairs, tables, or couches you want to get rid of. If they are in acceptable condition, various second-hand stores will take your unwanted items as donations. Such places include Goodwill, Fort Collins Habitat for Humanity Restore, arc Thrift Stores, and Thrift Rite.