What Size Dumpster Do You Need?
Brenna Timm
Dumpster Rental offers 3 sizes
After all of your meticulous planning, it is finally time. Demo will soon begin, moving day is coming, or a major cleanup will be a significant part in next few weeks of your life. Contractors, permits, everything appears to be in order. That is, until you consider how to deal with the amount of waste your project will generate. A roll-off dumpster is a wonderful solution. However, you must make one more decision: what size do you need?

What do my options look like?
Dumpster Rental provides three sizes you can choose from to fit your various project needs.
8-yard Dumpsters are a great fit for simpler projects, such as clearing a garage, disposing yard waste, and smaller home remodels like bathrooms. The dimensions come in at 12 feet long by 8 feet wide by 4 feet high. There is plenty of space for whatever you need to discard, at a comfortable height to throw material over the side.
10-yard Dumpsters are slightly larger than the 8-yard option, made for projects of a slightly larger nature. Large house clean-outs,  small commercial jobs, and medium house remodels are only a few possible projects this size can accommodate. Coming in at 12 feet long by 8 feet wide by 4 feet 6 inches high, this dumpster is a heftier version of the 8-yard, able to handle large debris such as timbers from your old deck, while still at a comfortable height.
15-yard Dumpsters  are your best choice for major projects, such as new construction, large-scale remodels, or large cleanups. This dumpster has much more volume compared to other dumpster options, with the dimensions at 12 feet long by 8 feet wide by 5 feet 6 inches high. Being so large, there are no worries about filling this dumpster with everything you don't want.
Brenna Timm
Who do you see hauling your trash?
Women are making up a larger number of workers in the trash hauling business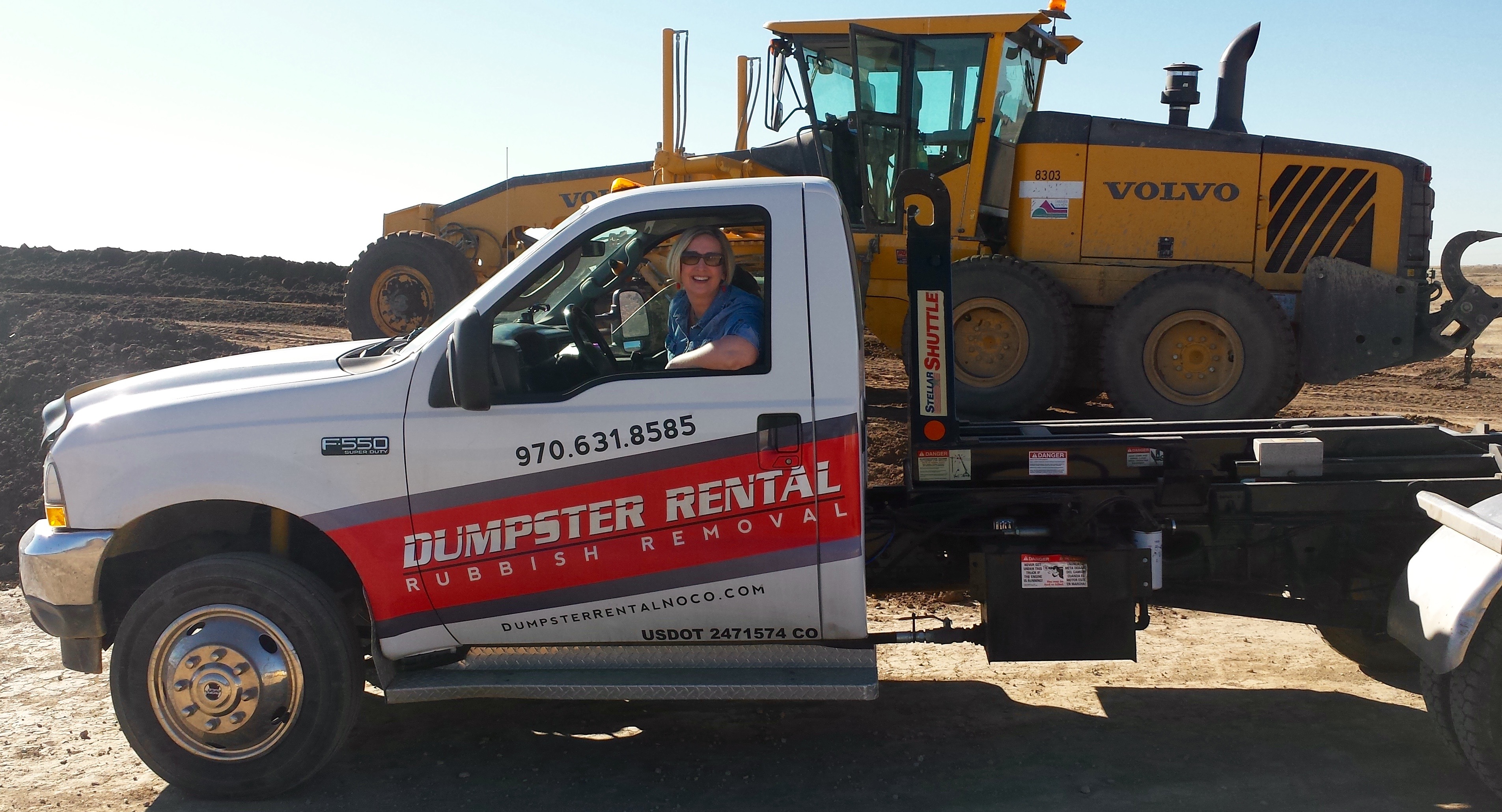 As a woman working in the trash business I know I am not alone. There are several other companies that are women-run based in northern Colorado. Some customers are still surprised to see a woman deliver their dumpster. Hauling trash has typically been a man's world.  But some companies are specifically targeting women to add to their workforce. One giant in the industry, Waste Management, has specifically recruited women for driving garbage trucks and working as technicians. Currently, women account for two percent of Waste Management's drivers and technicians. Women-owned companies offering dumpster rental, full-service trash, and recycling are popping up all over the country
As unlikely a job this is for a woman, it is truly a lot of fun. You are able to enjoy the outdoors as well as interact with customers who are so happy you are helping them out. Being out and about in the community is great.  Also, this job is both physically and mentally challenging, which is very satisfying. You also know that you are making a difference in the world.  We are doing this by not only offering dumpsters for hauling trash but recycling as well. Diverting waste from the landfill is not only a City of Fort Collins goal, but ours as well. We'll talk a bit more in the future about zero waste and what that means for us and our community.
As Dumpster Rental moves towards the future I will continue to work hard dropping off roll-off dumpsters for our customers. We will always offer great customer service with a smile. We continue our journey knowing there is a growing number of women working just as hard as I do, while having a great time making a positive impact on their community.
Just a little bit about us
Who are the people behind dumpster rental and where do they come from?
Dumpster Rental was started as a side hustle way back in the late 1980's in Colorado Springs. We used an old trailer to help people with yard clean ups around their house. Then we started making our own dumpsters and in 2000 we made things official and created a corporation. In 2012 we decided to move to Fort Collins. So we started over again with new updated equipment and some hard work as a full time gig. Some unique facts about our business: We are owned and operated by a woman… Laurel comes from four generations of garbage men and is the first garbage woman in the family.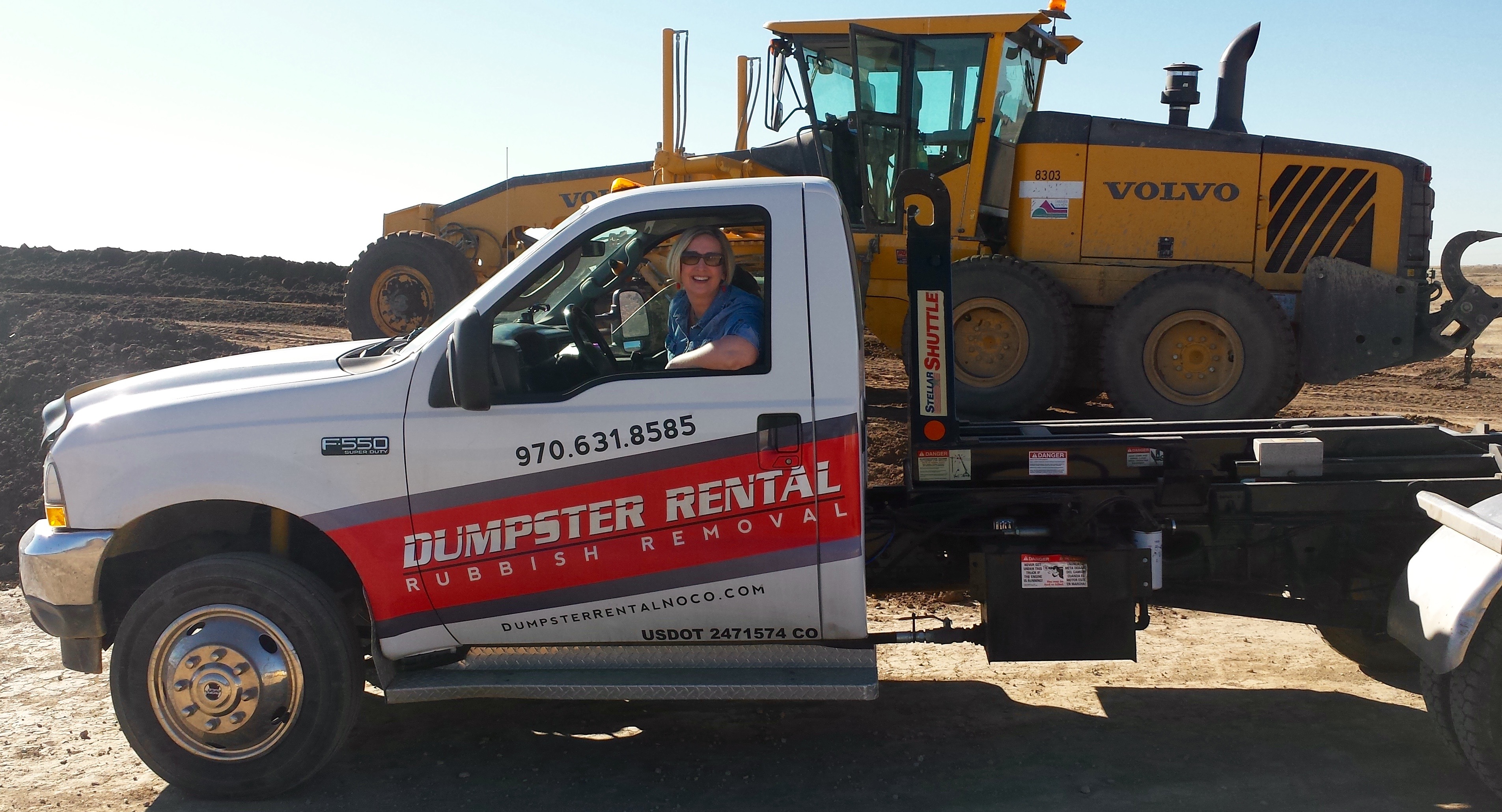 We draw on those four generations of experience to offer you the best customer service around. We have some pretty cute co-pilots that tag along most days, Patty and Duncan.
We are super happy to be in Fort Collins and helping people with their hauling needs in northern Colorado and really look forward to making new friends while we work.